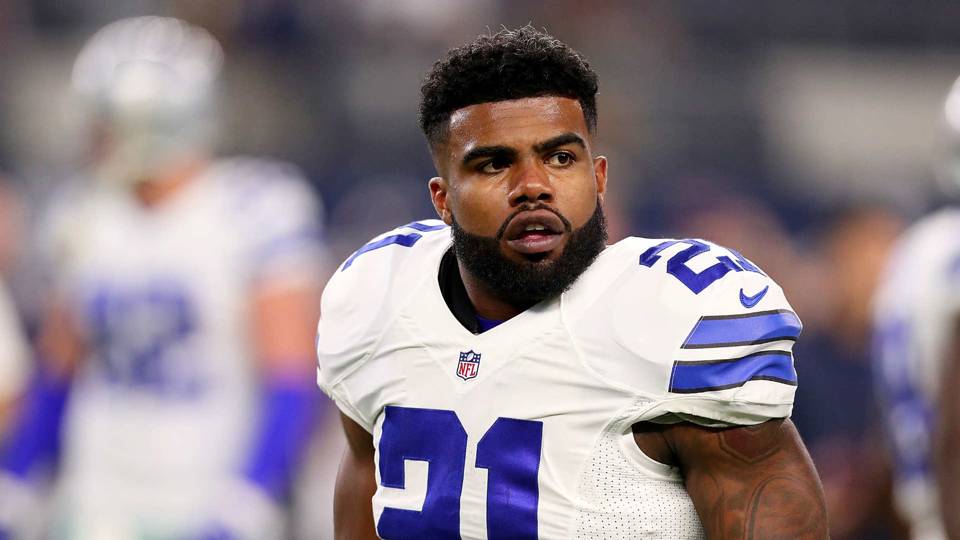 On August 11, 2017, Dallas Cowboys fans were shocked when their star running back, Ezekiel "Zeke" Elliot, was suspended for six games due to a domestic violence altercation that occurred between him and then-girlfriend, Thompson, in July 2016. While the NFL has previously stated that a six game suspension is the baseline punishment for a player's act of domestic violence, this steep of a punishment has only been upheld in two of nine reports of domestic violence in recent years. These lesser punishments were inflicted upon players who were found guilty of charges such as Andrew Quarless firing a gun into the air after an argument (two game suspension) or Jonathan Dwyer head-butting his wife and breaking her nose (three game suspension).
Three separate altercations, which occurred in Columbus, Ohio, were cited by the NFL as contributing to Zeke's suspension. The first altercation took place on July 17, 2016, where he allegedly used physical force causing injuries to Thompson's arms, neck, and shoulders. The second took place on July 19, 2016, which allegedly resulted in injuries to Thompson's face, arms, wrists, and hands. The third and final altercation, resulting in injuries to Thompson's face, neck, arms, knee, and hips, allegedly took place on July 21, 2016. The only evidence against Zeke comes from Thompson, those who interviewed her about the incidents, and those who examined her injuries after the incidents.
The NFL's letter to Zeke regarding his suspension repeatedly stated that the injuries "appear recent and consistent with Ms. Thompson's description of the incident and how they occurred." However, there were no other witnesses to any of the incidents. The letter, signed by B. Todd Jones, Chief Disciplinary Officer of the NFL, goes on to say that the NFL's investigators believed Thompson's count of all of the incidents and never felt that Thompson was lying to them in their many interviews with her.
None of the incidents led to Zeke's arrest. In fact, the Columbus Police Department chose not to pursue a criminal prosecution against Zeke. In a statement on the matter, the department said it did not pursue charges against Zeke because of "conflicting and inconsistent investigation." However, the NFL's Personal Conduct Policy specifically states that "actual or threatened physical violence against another person" is expressly prohibited. The policy also says that NFL players are held to a higher standard, noting that "[i]t is not enough simply to avoid being found guilty of a crime." While the NFL has every right to heighten the standard of their players' behavior, is it just for Zeke to be punished for something that there is no legal proof actually occurred?
This NFL organization holds their players to a higher standard due in great part to their fans. Football is America's sport, with millions tuning in to watch NFL games each week. The decisions made by the disciplinary authorities are scrutinized by the fans who tune to watch their favorite players compete. Further, young children look up to the players in the NFL as heroes and role models. What kind of example does domestic violence set for the young viewers?
On the other end, Zeke's suspension appears to be more severe than many cases of domestic violence in the NFL that have occurred over the past couple of years. For instance, former New York Giants kicker, Josh Brown, admitted to beating his wife and was suspended for only one game. (On appeal, Brown was given a six game suspension). Ray Rice, former running back for the Baltimore Ravens, committed domestic violence on video, which resulted in only a four game suspension. Thus, many see Zeke's punishment as unfair. What example does it set for the fans that their role models can be punished for something they took no part in? While domestic violence is a serious issue in our society, so is punishing someone without proof of their crime.
B. Todd Jones stated in Zeke's suspension letter that there is simply no evidence that another person could have committed the acts of violence towards Thompson. However, the legal world recognizes that one is innocent until proven guilty. Zeke has yet to be found guilty of domestic violence against Thompson. His suspension is more severe than many proven cases of domestic violence committed by NFL players in the past, leading many to wonder if maybe the NFL is trying to crack down on their players and use Zeke as an example? Zeke has not admitted to committing these acts of violence, nor has a video surfaced of him committing them, so why is his suspension more severe than players who have previously been found guilty of committing domestic violence?
Zeke and his lawyers responded to his suspension by appealing it. Harold Henderson, the NFL's designated arbitrator, took on the task of determining whether or not the NFL made the right call. In the end Henderson upheld Zeke's six game suspension. Upon the decision, made on Tuesday, September 5, Zeke's legal team released a statement saying that the "only just decision was to overturn the suspension in its entirety" and added Zeke "was the victim of a conspiracy orchestrated by the National Football League and its officers to keep exonerating evidence from the decision makers…" However, Zeke and his legal team were not going to admit defeat that easily.
Before Henderson had made his final decision on the appeal, Zeke sued the NFL, seeking a temporary restraining order or preliminary injunction. If granted, the temporary restraining order would prevent the enforcement of Henderson's ruling. On Friday, September 8, United States District Judge Amos Mazzant III granted Zeke's preliminary injunction, stating that he "did not receive a fundamentally fair hearing, necessitating the Court to grant the request…" Thus, the Judge's decision was not based on any of the domestic violence allegations at all, but based on the process that the NFL chose in their pursue against Zeke.
As a result, Zeke played in the season opener on Sunday, September 10. With Zeke's skills, the Dallas Cowboys defeated the New York Giants 19-3. Due to the preliminary injunction, Zeke will have the opportunity to play this season until the matter is moved through the Court system. While Zeke's legal team sees this as an ultimate success, it could mean that Zeke has to serve his suspension at a later date. However, Judge Mazzant's ruling shows that the NFL did not give Zeke the "fundamentally fair hearing" that he was owed. The final decision on Zeke's suspension will likely be widely criticized by fans on both sides, but the granting of his preliminary injunction is seen as a vital step towards achieving the fair investigation Zeke deserves.
By: Liz Feeney
Liz Feeney is a 3L student attorney/chief counsel in the SMU VanSickle Family Law Clinic.