Ours Was the Shining Future: The Rise and Fall of the American Dream
November 13 @ 6:00 pm

-

7:15 pm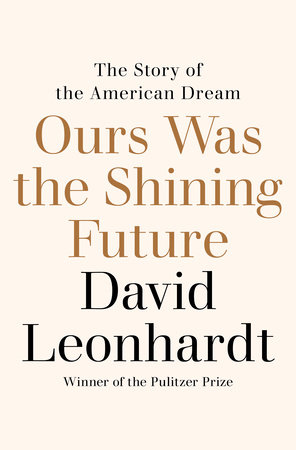 Join the Center for Presidential History as we hear from The New York Times writer David Leonhardt winner of the Pulitzer Prize, on his book Ours Was the Shining Future.
Two decades into the twenty-first century, the stagnation of living standards has become the defining trend of American life. Life expectancy has declined, economic inequality has soared, and, after some progress, the Black-white wage gap is once again as large as it was in the 1950s. How did this happen in the world's most powerful country? And what happened to the "American dream"—the promise of a happier, healthier, more prosperous future—which was once such an inextricable part of our national identity?
Drawing on decades of writing about the economy for The New York Times, Pulitzer Prize–winning writer David Leonhardt examines the past century of American history, from the Great Depression to today's Great Stagnation, in search of an answer.
To make sense of the rise and subsequent fall of the American dream, Leonhardt tells the story of the modern American economy as an ongoing battle between two competing forms of capitalism: one that envisions prosperity for most, and one that serves the individual and favors the wealthy. In vivid prose, Ours Was the Shining Future traces how democratic capitalism flourished to make the American dream possible, until the latter decades of the twentieth century when, bit by bit, the dream was corrupted to serve only the privileged few.