My name is Michael Tran, majoring in Applied Mathematics at Southern Methodist University. I became a part of Unbridled Learning Project, doing research about Asian Carp which are known as an invader species on the Mississippi and Illinois Rivers.
The project requires me to travel from places to places through out Illinois state, starting from Southern Illinois University at Carbondale (SIUC). When I was at SIUC, I had a chance to meet and discuss with Dr. James Garvey, who is a Director of Fisheries and Aquaculture Center at this school. Dr. Garvey has been working on the Asian Carp issue during the last 12 months. They received a grant of $2.8 million from Great Lakes Restoration Initiative (GLRI). They have been monitoring the fish and figuring out patterns of their movements along Mississippi and Illinois river.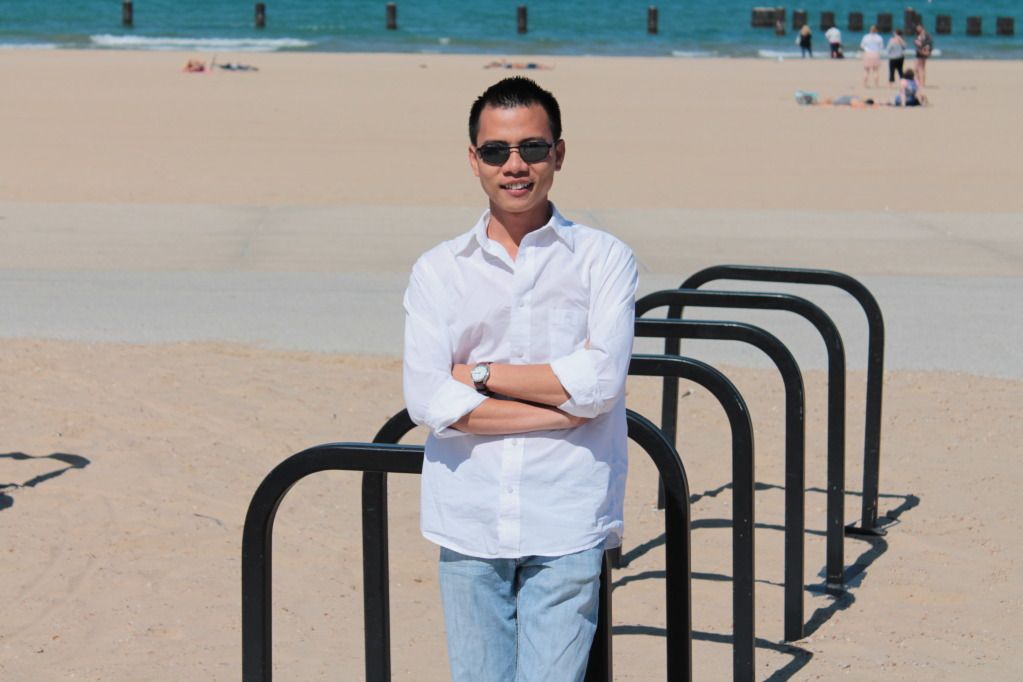 A picture of mine in front of Lake Michigan
I left Carbondale after 4 hours of talking to Dr. James Garvey. I drove down to Golconda, which is a small town in the South of Illinois. I have met and talked to many local people, surveyed their reactions toward Asian Carp. According to Kenny Bradford, a local retired fishermen, "Asian Carp has a huge impact to local area as well as wherever that the Illinois or Mississippi River passes through. Those fish can jump very high out of the water and it could hit you in the face."
I stayed in Golconda for 3 days to study about the Asian Carp. I have had a chance to go on the boat and have seen a lot of fish jumping. "They get scared when a boat goes by", said to Kenny.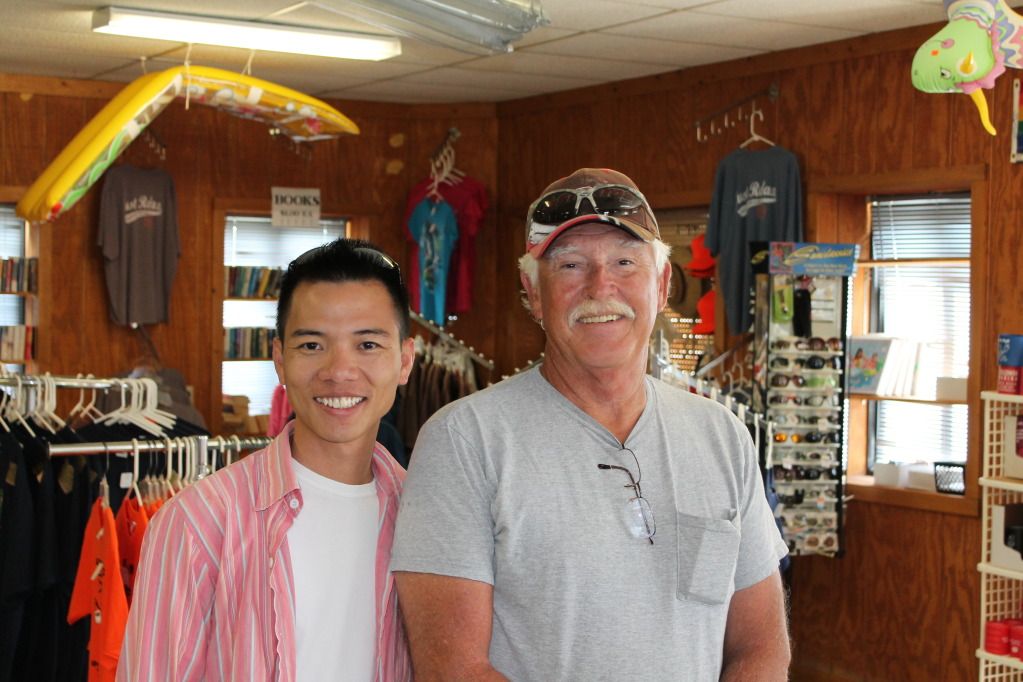 Kenny Bradford and I after a trip on Ohio River
Left Golconda, I continued my journey to another town call Thomson. I have met and had great conversation with Mike Schafer, who is the owner of Schafer Fisheries.
Mike Schafer – the owner of Schafer Fisheries
 Mike has created many plans in order to help get rid of the Asian Carp. He supplies Asian Carp product such as liquid fertilize, animals food (for dog or cat), or even hotdog for human consumption. His products are now available at more than 16 countries around the world, such as South Africa, Israel, Hongkong, China, Singapore…
When asked about humanitarian food aid, Mike replied, "It is very hard to do since we do not have any supports from the government. We need to be funded."
The biggest goal of my project after studying feasibility and toxicology is creating a humanitarian food source in order to help the hungers around the world. It can be done and if it happens the way I predicted, there would be a huge benefit; not only for America, but also for many other countries around the world.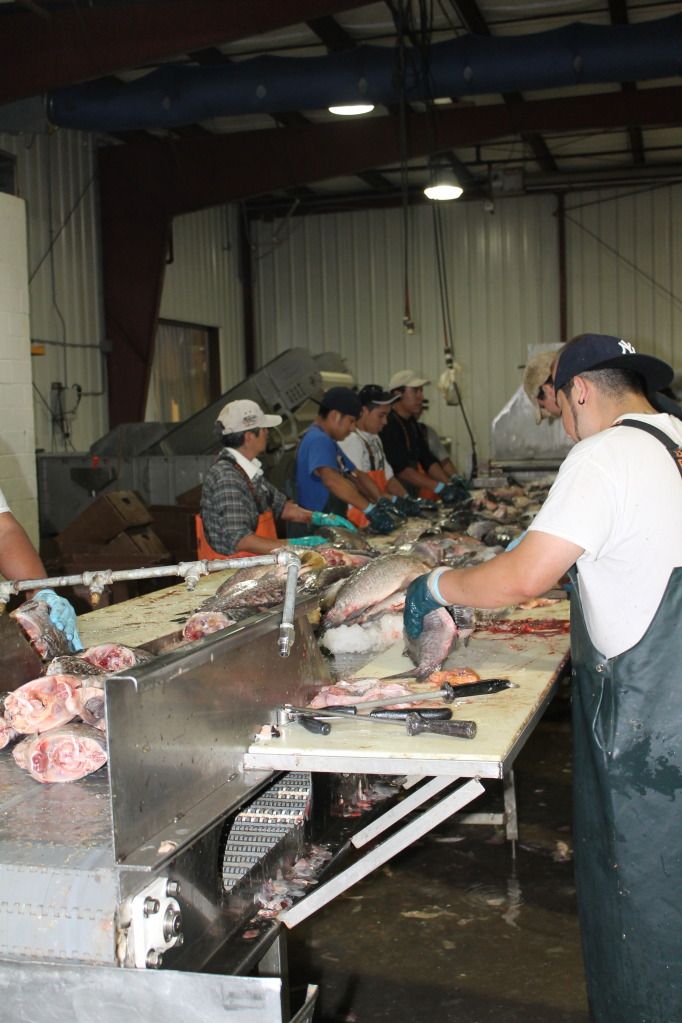 The fish are being cleaned before they go through the 'de-bonding' machine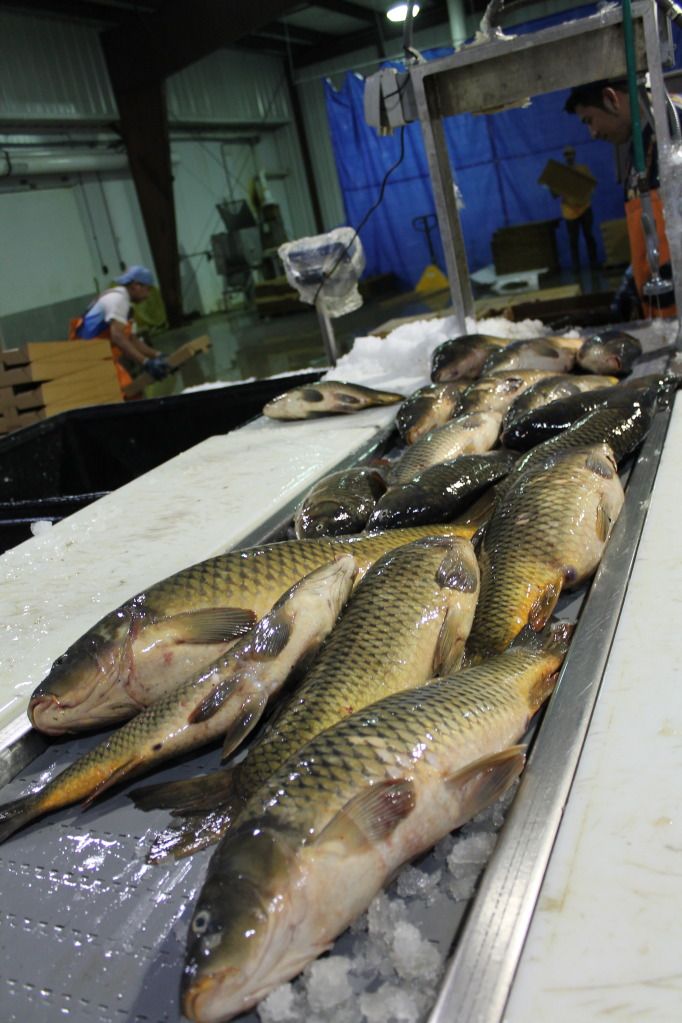 This is common Carp, not the Asian Carp which dominating the Illinois and Mississippi river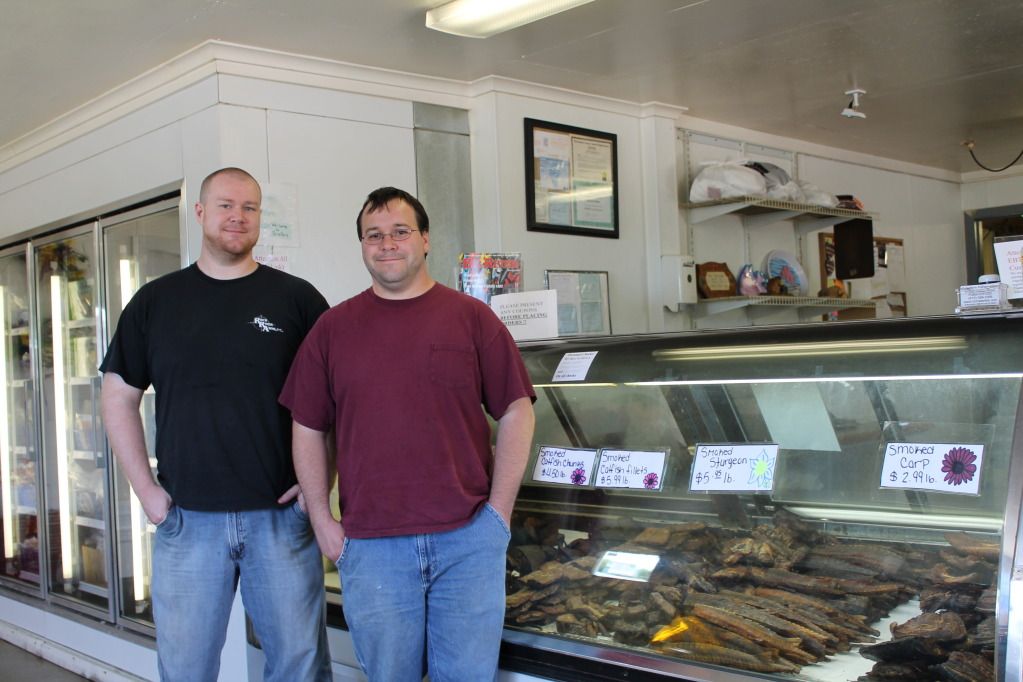 Joe (left) is an IT engineer and James Schafer (right) is the son of the owner, who is also the general manager of Schafer Fisheries
Asian Carp can jump very high out of the water when they are shocked by electricity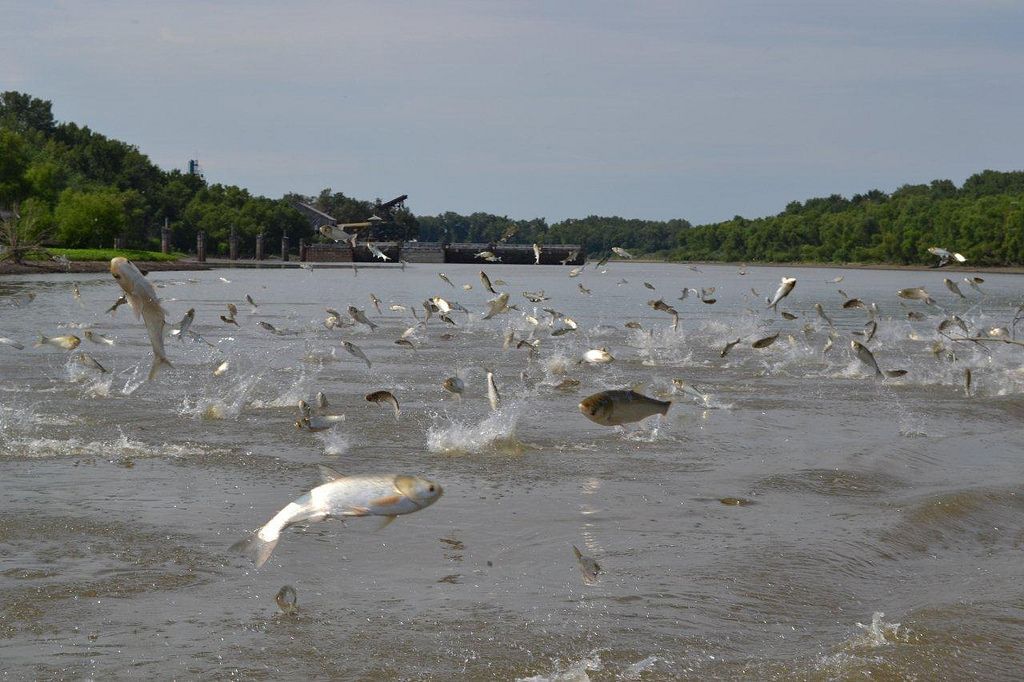 According to the study of SIUC, they estimated there would be more than 12,000 Asian Carp on each river mile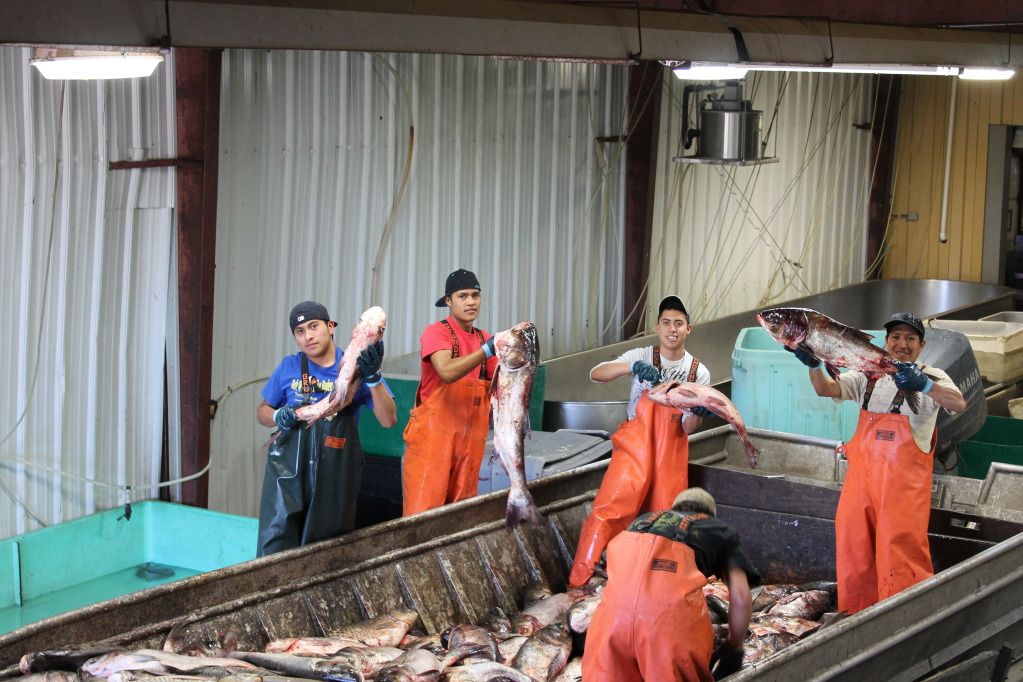 Solving Asian Carp problem can help creating jobs in the local area. These fishermen can earn up to $4,000 per day, based on how many fish they caught.
 It's also helps to create jobs in the factories. The salaries for these workers range from $8.00 to $12.50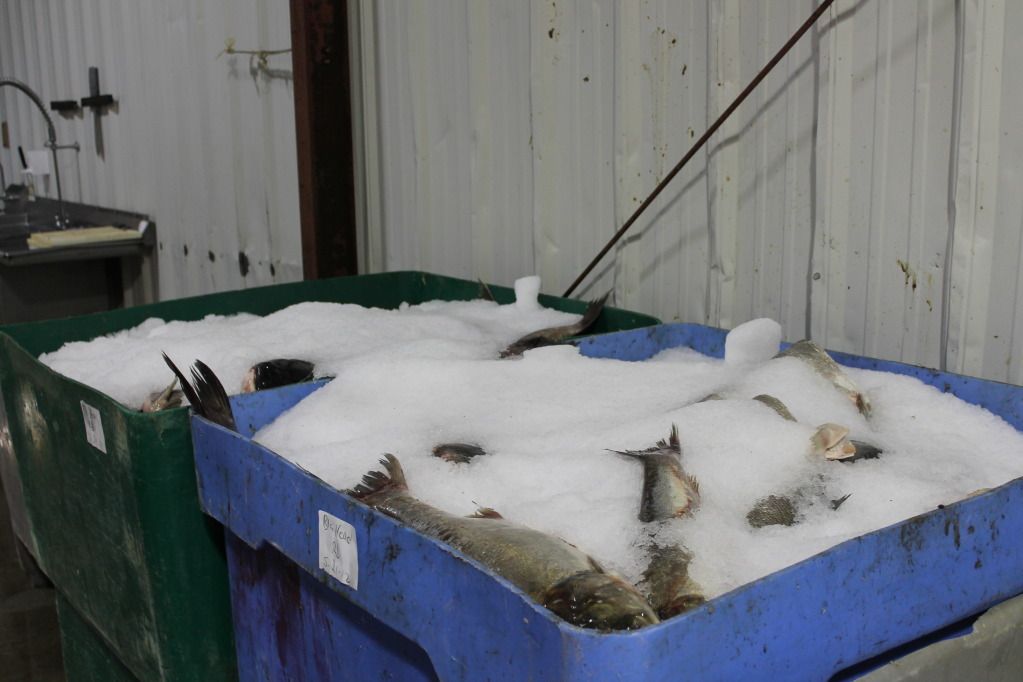 After sorting the fish, they are going to be frozen for different purposes of usage. It can be used as fertilizer, foods for animals consumption, or even for human consumption. 
These hotdogs are very tasty, it even better than any hotdogs you would find in the supermarket. 
There are many debates whether or not this fish can be a good nutrition source, Americans seem do not interest when consider using Asian Carp for their meals. According to the study from Southern Illinois University at Carbondale, Asian Carp is very high in Omega 3, low fat and also low contaminated level.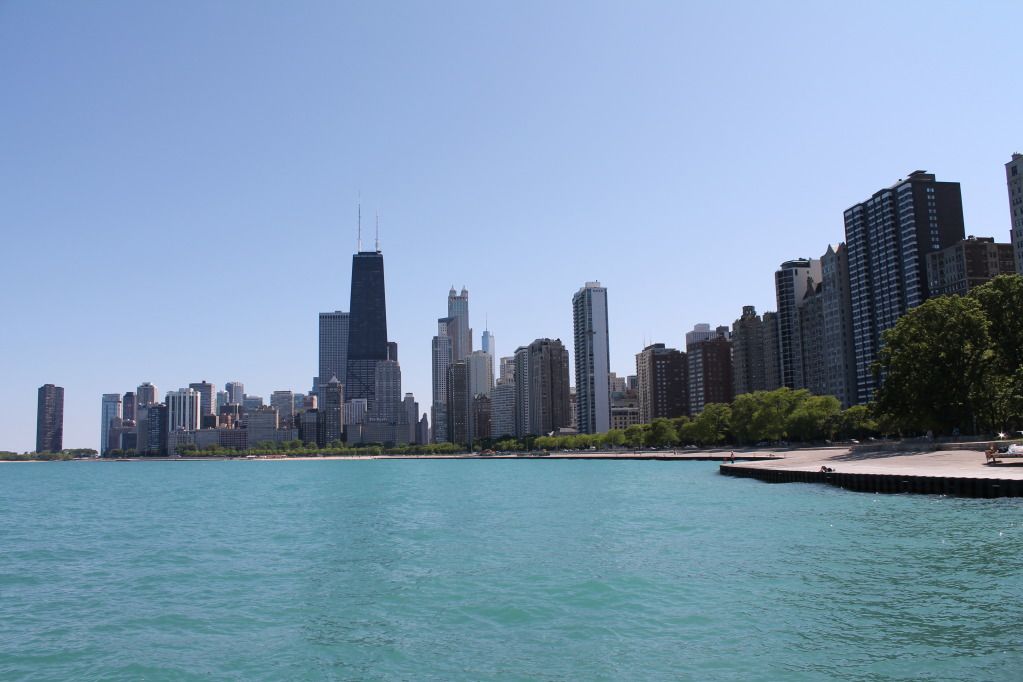 Imagine one day that Asian Carp could make their way to get into the Great Lakes, the view will no longer be as beautiful as it shown in the picture. If we do not have an appropriate action in the short time, it will soon becomes a nightmare.
Watch a video made by Michael about his project http://www.youtube.com/watch?v=cOBppQ1sj7I&feature=youtu.be
Share on Facebook